If you're going through a divorce, you probably feel unloved, stressed, and unappreciated.
What could boost your self-esteem and take your mind off of your misery more effectively than a date or two with somebody who's actually  into you? And if those dates lead to a romance, all the better! So why wait to start your new life until after the divorce is legal and finalized? Why not start right now?
You may feel ready to move on, but dating during the process of a divorce can have many serious negative results that can harm you personally, emotionally, financially and legally.
Here are six reasons why you should not start dating during a divorce:
You could damage your ability to reach an amicable settlement. It doesn't matter if your spouse cheated on you over and over again but this is the first time you've even thought about going out for coffee with somebody else. It doesn't matter if your divorce process has been dragging on and on and on. It doesn't matter if you're sleeping with your new romantic interest or not.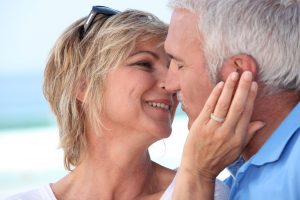 When your spouse (yes, you're still married) discovers that you're dating somebody else, it will likely make dealing with each other much more difficult. This will make a friendly and peaceful settlement much more challenging.
You could end up reducing the level of spousal support you are able to receive.
You're considered legally married until you're officially divorced by a judge. If you're involved sexually with somebody else before your divorce is finalized, according to the law in some states, you're committing adultery.  Setting aside the morality of your a fling while you're still legally married can have deeper legal ramifications than you thought.
If you're living in a state that still legally recognizes fault in cases of divorce, your adultery may put an end to your possibility of receiving spousal support. In other states, it may just end up significantly reducing the final amount of support that you receive.
If you've gone past the stage of just dating and are living with your new love interest, it's likely you've left yourself no chance at all to receive any spousal support.
You might harm the settlement strategy you have in place.
It's a common understanding that spousal support is paid out in installments (usually monthly). But depending on the law in the state where you live, you may be able to receive spousal support in lump sum form when the divorce is legally finalized.
But usually, you can only get a lump sum spousal support payment if the spouse agrees to pay it out in that way. Most judges wouldn't force a spouse to pay in a lump sum.
So if your soon-to-be-ex knows you're likely to move in with somebody else soon after the divorce, the spouse would never agree to a lump sum  support payment. Likely, they'd instead opt for periodic payments. Then if you move in with somebody else, the spousal support payments would end.
You may lose money in the property settlement.
Spousal support payments are generally considered taxable income. Money received in property settlements is not taxable. Therefore, you may want to reduce or give up your spousal support in exchange for a more significant property settlement. Your spouse may prefer to do it that way too, because their future obligations to support you would end.
Agreeing to a larger property settlement instead of spousal support payments allows a clean break to be made. It also eliminates potential future problems for both parties. But if you're already dating somebody else, your spouse might be less likely to settle things this way. They might prefer to pay the support out over time. That way, your soon-to-be-ex won't be required to give up extra property. Then, if you move in with somebody else, your spouse could end spousal support payments, too.
You could negatively impact your ability to be an effective parent.
As you work out a parenting plan with your spouse, you're both assuming that your ex will be alone with the kids during their time together. If that assumption changes, adapting the parenting plan becomes significantly more complicated.
It's common for the parent that's not dating to feel as if they're already being replaced. This makes them less willing to give up time with the kids. Further, the parent that's not dating has a new added concern regarding how their ex' new love interest will deal with the kids.
This makes reaching a reasonable legal arrangement more difficult to do. It also can have a negative impact on your overall parenting. Getting a divorce can take up as much energy and time as working a full-time job. So if you've already got a full-time job, you'll be left  with even less time for your kids, at the very time they probably need you more than they ever did before. They have emotions to deal with about the divorce, too. They're trying to figure out their own new relationship structures.
New relationships can take a lot of time. Which would leave you with even less time for your children. No matter how hard you try to convince yourself a happier you will make you a better parent, the truth remains that you need time to care for your kids.
You could be distracted from dealing with your own emotions.
Starting a new relationship may seem like just what you need right now to forget your pain. Few things are as exciting—or as distracting—as a new romantic relationship! But even if you've been thinking about and preparing for the divorce for a long time, you're not at your best while you are going through a divorce. You're not your true self.
To move on after your marriage, you need to deal with your emotions. You must let yourself feel the sadness, anger, pain, and any other emotions you may be feeling. You need to do the work and take the time necessary to let your wounds truly heal. If you don't, you'll likely make the same mistakes in the new relationship that you were making in your failed marriage.
Hiding the pain of your divorce in a new relationship might help you feel better for a while, but it ultimately, may be only temporary. If the romance fades and the relationship ends, you'll be left picking up even more shards of your broken self than you were before you started dating again.